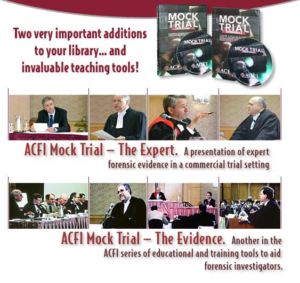 This ACFI Mock Trial was initially presented to the ACFI 6th Annual Fraud Conference on Monday, May 17, 2004, allowing attendees the rare opportunity to witness the presentation of expert forensic evidence in a commercial trial setting and the subsequent cross-examination of the expert. The trial emphasizes best and most professional practices, as well as the most common errors made by some forensic investigators. Please note that mistakes were purposely made in order to highlight such errors for training purposes and the viewer should not be under the illusion that several of the questions or comments asked or made would be part of a real case. Leslie A. Wittlin, LL.B., CFI of Gowling Lafleur Henderson LLP, and past President of the ACFI Board of Directors, was the narrator for this session and, since the taping, has inserted further commentary.
————————————————————–
The Mock Trial DVDs can be viewed while following along with printable factums, reports and other materials which are also contained.
Background Documents on CD included with each DVD:
Various background documents are referred to during the trial. The CVs, as well as:
Exhibit A: Chart (1 page)
Exhibit B: Fact Situation (5 pages)
Exhibit C: Expert's Report (12 pages)
Exhibit D: Expert Witness' CV (1 page)
Exhibit E: Visa Statement (2 pages)
Exhibit F: Western Division General Journal Entries – extract (1 page)
---