25th Annual Fraud Conference… 2023
Save the date!!!  The Association of  Certified Fraud Investigators of Canada (ACFI) will be hosting its 25th Annual Fraud Conference October 2nd, 3rd and 4th, 2023.
For those of you who have attended the ACFI conferences in the past, you are well aware of  the high quality of speakers selected and the diverse topics they cover.  Learn from industry leaders and network with experts in the community. This year we are celebrating a milestone – 25 years.
"We look forward to bringing together an exciting lineup of  keynotes, interesting panel discussions and inspiring speakers.  This year you will have the option of attending either in person or virtually. This blended format will give us the opportunity to offer attendees more flexible attendance solutions to suit a variety of needs and situations.,
" stated David Debenham, President.
Earn up to 22 CPD hours – details coming soon.
ACFI 25th Annual Conference
Speakers – Call for Papers
The call for papers is open for those interested in sharing their experiences and expertise with like minded individuals.  Please let us know by January 30, 2023 if you would be interest –
executivedirector@acfi.ca
Masterclass for January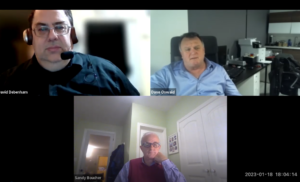 The Association of Certified Fraud Investigators of Canada held their first online ACFI Masterclass for 2023 – "The State of the Economy, Rising Interest and Inflation and the Effects of Fraud" (January 18th) with expert panelists Dave Oswald, David Debenham and Sandy Boucher.
Members and guests joined Dave, Sandy, and David for an in-depth look at what 2023 has in store for the future of fraud. As Sandy said in his summation "Knowledge is the most useful tool in the fight against Fraud"   
Masterclass Recording 
Many Thanks to Our
2022 Fraud Conference
Sponsors…
In Case You Missed the 2022 Fraud Conference….
Recordings of all of sessions from the 2022 ACFI Fraud Conference are available for download. You may purchase individual sessions or a complete collection. CPD certificates will be available upon successful completion of the related short quiz.

Discount codes for members and affiliates may be obtained by contacting us. 

2022 Fraud Conference Collection ($40 each or $625 for the complete set of 38 recordings) Note the PDF Presentations are only available to those who attended the conference.



The 2022 ACFI Annual Fraud Conference participants gave our speakers an average grade of 4.36 out of 5!  A special thank you to those who gave up their time to participate in the conference and share their knowledge & experience with those who attended.

We would like to recognize in particular those  speakers that received the highest ratings (in alpha order):
Meredith Dekalb-Miller – Meredith DeKalb Miller & Associates – "How a Forensic Document Examiner (FDE) Helps Fraud Investigations"
Jeffrey Gilbert – Office of the Auditor General Manitoba – "The Psychology of Fraud"
Stephanie Greenwald – RSM Canada – "Fraud and the Pandemic"
Kevin Lo -Froese Forensic – "Current State of Digital Investigation & Digital Evidence"
Jean-Charles Plante – RSM Canada – "Fraud and the Pandemic"
Fred Watkins – Pinnacle CPAs Professional Corporation – "Prevention of Money Laundering in Canadian Real Estate: The Adequacy of Legislation and Enforcement"
Welcome to Our Newest Affiliate Member…