Pre-Conference Workshop – Forensic Document Examination
2019-04-28 @ 13:00

-

17:00

UTC+0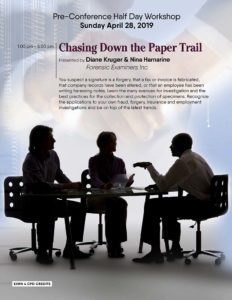 "Chasing Down the Paper Trail"
Diane Kruger & Nina Harnarine
Forensic Examiners Inc
Sunday – 28 April 2019 – 13:00-17:00
Download & Share Conference PDF
Member/Affiliate – $220
Non-Member – $245
You suspect a signature is a forgery, that a fax or invoice is fabricated, that company records have been altered, or that an employee has been writing harassing notes. Learn the many avenues for investigation and the best practices for the collection and protection of specimens. Recognize the applications to your own fraud, forgery, insurance and employment investigations and be on top of the latest trends.
---
Diane Kruger BA LLB JD has been a forensic consultant since 1987, and was employed prior to that by the Centre of Forensic Sciences in Toronto.  Ms. Kruger's expertise involves the examination and comparison of handwriting and signatures, deciphering erased, obliterated or indented writing, identifying printing processes and mechanical impressions, and ink and paper examinations. She has completed training and testing in Canada, England and the U.S. and has testified as an expert witness  on numerous occasions. She is a Professor at Humber College, Crime Scene Investigation Program and is the President of Forensic Examiners Inc. located in Toronto.
Nina Harnarine, BSc is a graduate of the Forensic Science Program at the University of Toronto. She completed her training as a document examiner with Diane Kruger and is currently on a full-time contract with Forensic Examiners Inc. in Toronto. She has presented her research in Canada and internationally and is a member of the CSFS, AAFS, CSFS (U.K.) and ASQDE.